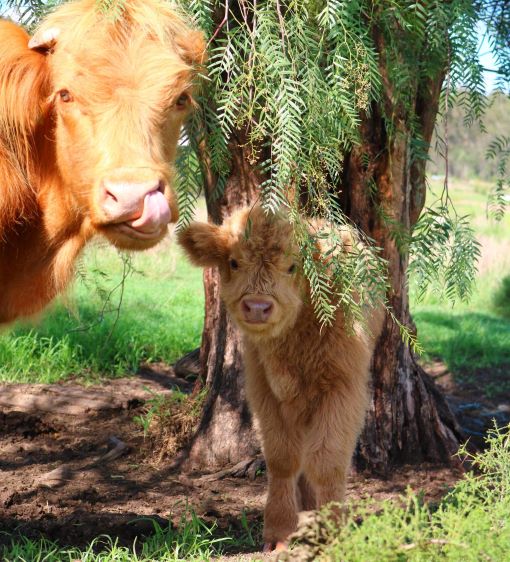 About Vagabond
Vagabond Highlands is a registered Breeder of Highland Stud Cattle. It is a Eco-sustainable 300 acre property located in Southeast Queensland. All animals are friendly, quiet and bred for Queensland conditions.
Farmer Jules and her daughters Jess and Haylee live on the property and enjoy spending their days with their hairy coos. They now breed registered Highland Stud stock, crossbred paddock cows and grass-fed beef.
The Highland cattle are either sold to other highland breeders, farmers who want a few grass-eaters or they live with the herd for 3 years until they are mature enough to produce quality marbled meat. Nothing goes to waste with the hides and horns also being harvested and sold.
Meet some of our favourites
Heidi
​Heidi (and her mum Lorna) were the first to join our family many years ago. She has a very quiet temperament and has been a natural mum to many of our purebred calves including twins last year.
White Cloud
White cloud has a cheeky character and when you're out in the paddocks, she's the one who is running towards you. She was raised in our animal nursery and often forgets she now has big horns when she comes up for a pat or a treat.
Cupcake
Cupcake​ is one of Heidi's twin calves. She is Haylee's first highland heifer and was awarded Reserve Champion at the Marburg and District Show in 2019. Haylee is a Junior Member of the Australian Highland Cattle Society.
Cadbury
Cadbury is Farmer Jules' favourite cow. She is very playful and loves attention! Sussex is a rare breed of cattle and Cadbury is one of the few on the east coast of Australia. She loves kids patting and brushing her and often just hangs out with Jules.
Meet the Farmers
Jules and her daughters Haylee and Jesse live on the Vagabond Highlands property and regularly spend time with the animals therefore all cattle are very quiet and use to children.
Farmer Jules
Jules works as a registered nurse as well as manages the farm, fruit trees and continues to improve their eco-sustainable house and farm.
Farmer Haylee
Haylee is the first QLD junior member of the Australian Highland Society and has her own stud stock including "Cupcake".
Farmer Jess
Jess is tech savvy and enjoys managing the spreadsheets and document management for the business.
Allora Show 2020
First in Class – Cupcake
Reserve Senior Female – Cupcake
First in Class – Cloud
Champion Junior Bull – Cloud
Marburg and District "A&I" Association 2019
Grand Champion
Reserve Champion
Champion under 12 months heifer
First under 12 months heifer
Second under 12 months heifer
Why Highland Cattle?
Highland Cattle are
Intelligent
Even-tempered animal
Quiet enough to be halter-trained
Disease resistant
Long-horned & unusual in appearance
Beef fetches premium prices as it is low in Cholesterol with marbled meat
Lives often twice as long as dairy and other beef cattle (up to 20 years)
Excellent mothers
If you would like to learn more about the Highland breed, the Australian Highland Cattle Society Inc has a lot of quality information.